Your Guide to Sofa Cleaning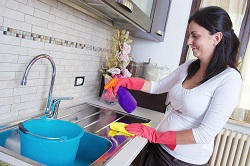 Every item in your home will have some importance. Your computer lets you communicate and discover more about the world, your TV entrains you, your oven allows you to have cooked meals, a fridge and freezer will keep food ready for consumption, a kettle allow you to have a warm drinks. Your phone makes it easy to communicate with friends and family, and much more. Each item will be designed to entertain you or to make it so you can function each day and so everything must be cared for. If anything becomes damaged, dirty, worn, etc then it will not operate to the best of its abilities, which means you can face inferior results and setbacks in your life. One item that is important and need a lot of is a sofa. Settees will be an essential part of your living and are needed to sit, rest, relax and more. Without these, you would be stood up or at least in smaller, less comfortable chairs. They are such large objects and are used often, and we eat and drink on them, let pets onto them and more all means that they will become dirty very quickly. This can be problematic because as they are stained and worn, they will look less attractive, not be as comfortable and make you entire living room look a mess. Handling your sofa cleaning can be tough, but with a few tips, you are assured of comfy and clean sofas. The first step you have to take to handle your street cleaning is to be prepared. Going into any task randomly can lead to wasted time and poor results, so the more ready you are, the better. The first thing you should do is select a time once or twice a week to clean your sofas. Regular home cleaning sentential to ensuring your chairs look and feel good, so ensure you put aside an adequate period in which you can get all the work done. You should also stock up on all the essential cleaning equipment so they you can complete the chore fully and in one go. It will be necessary to purchase cloths and paper towels to wipe up us dirt and stains, and sofa cleaners can be useful, as these detergents and sprays may make it easier to combat stains. A bucket of water and a couple of cloths may be all you need to tackle upholstery cleaning. Simply dampen the cloth and wipe over every inch of the sofa. Rub harder for anything that has dried and it will soon be gone. When one cloth has become too dirty, replace it with another to ensure you aren't adding dirt to the chair. Do not apply too much water or scrub too hard to prevent damage. You can go over the wet sofa with paper towels to dry it, or just leave it a few hours to get it dry. Professional cleaners may be a great solution to sofa cleaning chores. Expert cleaning companies will be able to see to all of these chore mentioned and use the best techniques, equipment and more. This ensures you sofas will look better than ever and you don't have to put in any work. This can be useful as a one-off clean to get rid of stains and dirt that has built up, or as a regular experience to maintain the look and feel of your settees. There will likely be several cleaning services in your area, so research each, call them and find out which firm will be best for you.
You may also like:
We live in a world that permanently seems to chase us everywhere. We sleep too little, drink too much and run...