Cleaning A Newly Built House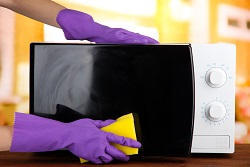 If you've just moved into your newly built dream home, or had a makeover renovation, you'll likely be feeling very pleased with your house. You probably want it to stay looking that way forever. It is possible with some serious house cleaning!After a renovation or living in a new home, it is the perfect opportunity to implement some new habits that will have long term benefits when it comes to domestic cleaning. Consider this your fresh start. Picture how you want your home to look and use these top tips to keep it looking that way. It doesn't have to be rocket science, just a bit of common sense home cleaning. Clean the heavy dust Start off by cleaning the entry area inside. Clear the counters and benches and wipe the over with a dry duster. Start at the ceiling and work your way down, dusting the tops and sides of everything. Make sure you also dust the window sills and ledges, as well as the ceiling fan blades and the top of tall appliances. Then mop or sweep the floors to get rid of the last bits of dust. Vacuum carpeted spaces as early as possible to prevent dust getting trapped in the fibres. Spot cleaningUse a combination of bleach and water in a bucket for the final cleaning process. Use paper towel or sponges to wipe down everything. At this point, it is a good idea to place newspaper on the floor and put the bucket on top of this. Wet the sponge or paper towel in the bucket and wring it out. Then start at the ceiling of the room and work down, as you did with dusting. Work in the same order. For anything with a chrome plated fixture or mirror surfaces, use rubbing alcohol to give it extra shine and wipe it down vertically, always staying in the same direction to remove streaks. Professional cleaningWhen in doubt, it is always worth contacting professional cleaning companies. Cleaning agencies specialise in dust removal and can get your home spick and span after a renovation or new construction. This can be a worthy investment to ensure that you start of living in your new home dust free in a healthy and safe environment. Setting everything upWhen unpacking in a newly built house or moving items into a renovated space, the unpacking and setting up time can be ideal for checking for any marks and stains that need to be cleaned. During this time, make sure you have a broom, mop, cloth and spray at the ready just in case you find any areas that you want to tidy up. Take your time with setting everything up. This isn't a process you want to rush so take time to think about where you want to place your items. If you are setting up a newly constructed house, work room by room. Start with the essential boxes of the rooms you are going to use the most. This is likely to be the kitchen, bathroom and bedroom. Just unpack the essentials and find a good spot for the in the room, then unpack the rest around them. Allow yourself to be excited about setting up your new abode and admiring how clean and neat everything looks. This is, after all, the desired way it will always look!
You may also like:
If you are feeling stressed out in your own home, then there is a chance that it is to do with the amount of house...
Every item in your home will have some importance. Your computer lets you communicate and discover more about the...
We live in a world that permanently seems to chase us everywhere. We sleep too little, drink too much and run...