At What Point Do You Need A Cleaning Agency?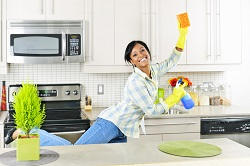 If you are feeling stressed out in your own home, then there is a chance that it is to do with the amount of house work that you need to do. The domestic cleaning is a big part of making sure that your home is hospitable, for you and your family as well as guests. There is no doubt that you will have considered a cleaner, and if it has previously seemed like too much of an extravagance, then you may want to have a second think about it, as getting cleaning agency in could save you that little bit of stress that is needed to ensure that you are not going over the limit with feeling under pressure! Getting overly stressed can lead to really serious mental health issues like exhaustion, and even breakdowns, so it is well worth speaking to your family about ensuring that you are not too over worked. Getting a cleaner in once a month can be enough to take the stain off, so it does not need to be a massive expense to be effective. Have a think about how much you can realistically afford, and then call up a few different cleaning companies. You will no doubt have discovered that there are a few in your area by simply searching online for cleaning services! Some people just go for a spring clean every now and again to make sure that they are getting the best from their homes, and a deep home clean like that can often mean that the cleaning from then on is a lot easier. If this sounds appealing then it is well worth getting in touch with a cleaning company to see what they can do for you. The reality is that most companies and individual experts will charge around ten pounds per hour, and with their extreme levels of experience, they will be in an excellent position to get things done a lot more quickly than you would have, simply because they are so used to it! So, the result is that the jobs which may have taken you a week to get done in and around your different daily tasks will be done in a matter of two or three hours, which means that you don't have to worry nearly as much about the cleaning for the sake of twenty to thirty pounds! By most calculations this is pretty good value.If you live by yourself in a small flat and are thinking that you need a cleaner because you can't really be bothered to get up and clean yourself, then perhaps your head is in the wrong place, so it is worth considering the idea that you may be convincing yourself that you need one for the wrong reasons! The main thing to be sure of is that you have the budget for the cleaning agency that you use, as otherwise you are very much more at risk of over stretching yourself monetarily, and this can lead to serious issues down the line. Also, when you are choosing your cleaning company, think about their prices in comparison to how you feel about their abilities and friendliness, and this will give you a good idea as to which company are right for you and your household, as well as your wallet! Giving a wide range of cleaning companies a call, and then trialing a few of them will ensure that you are not at risk of getting stuck with an overpriced cleaner.
You may also like:
Every item in your home will have some importance. Your computer lets you communicate and discover more about the...
We live in a world that permanently seems to chase us everywhere. We sleep too little, drink too much and run...